This is a blog full of Great Cheats and Random Stuff!
Xat Chat
Get your own Chat Box! Go Large!
Chat Rules
Total Number of hits for this blog!
67,476 hits. 50,000 by May 20th?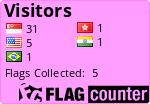 Herro! My name is Happy4423 on Fantage. I used to be a mod at some blogs and even owners.I created this because Princess Moomoo and Casey Cow inspired me.I like to watch Anime (Naruto) and I like reading books like Percy Jackson.You can usually find me on Xat or on Fantage. I hope you enjoy this blog!
Hi! My name's Pollee. I like to dance, BLOG, read, write, sleep, play soccer and yeah... I hate HW, love DANCE (did I already mention that?) I know I haven't been online a lot lately and I'm so sorry, but I'll try to be online more.